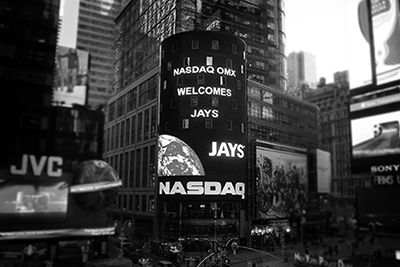 Northbaze Group AB home ground is simplifying audio & tech accessories and an actor who develops, designs and produces headphones, speakers and tech accessories under different brands. The brand portfolio currently consists of the brands Jays Headphones, KAVAJ and Krusell. The products are being distribute worldwide through global partners and through each brands eCommerce. Northbaze Group AB is a publicly listed company on Nasdaq First North.
Jays Headphones was founded in 2006 with a vision to give everyone an opportunity to experience great sound and designs. Jays design is rooted in the Swedish heritage with clean and simple lines
With a focus of always being on the forefront of both technology and design innovation, Jays has during the years launched many award-winning earphones. In 2018, Jays became Northbaze Group by expanding into the Smart Mobility vertical with the acquisition of Krusell with a brand legacy of designing and manufacturing high-quality mobile accessories since 1991 with a strong dedication and Nordic appeal in this area.
Within the Audio & Sound vertical Northbaze Group did in 2019 acquire the award-winning Danish speaker brand CLINT® Digital. The acquisition made Jays Headphones being able to further expand and include a speaker range into our assortment. The speaker range include both smart multiroom speakers as well as portable Bluetooth speakers.
KAVAJ designs and markets a high-quality and niche product assortment for smartphones, tablets and smart watches. KAVAJ has developed an intelligent IT-platform and ecosystem to handle online sales on Amazon and eBay with smart connections to price-comparison portals, reviews-handling and other sales generating features to support the sales growth.
Northbaze Group´s long-term financial objective is to have annual growth in net sales of 20 percent with a profit of minimum 10 percent EBITDA margin and an equity ratio (solidity) over 30 percent. The Northbaze Group has a strategy plan to make several acquisitions coming years with the objective to diversify and create a strong company group with a focus on long-term profitable growth. Northbaze Group currently has offices in Sweden, Germany, Hong Kong, Mainland China, Thailand, where its 100% owned production facility is located.
Årsstämma 2023
May 24, 2023
Delårsrapport Q1 Januari - Mars 2023
May 18, 2023
Bokslutskommuniké 2022
February 23, 2023
Kvartalsrapport 30 juni 2023
August 24, 2023 08:30
DELÅRSRAPPORT 1 2023 JANUARI - MARS
May 17, 2023 15:30
Årsredovisning 2022
May 08, 2023 13:53
Bokslutskommuniké 2022: Januari-december 2022
February 23, 2023 08:30